I'm very excited share my 2013 calendar!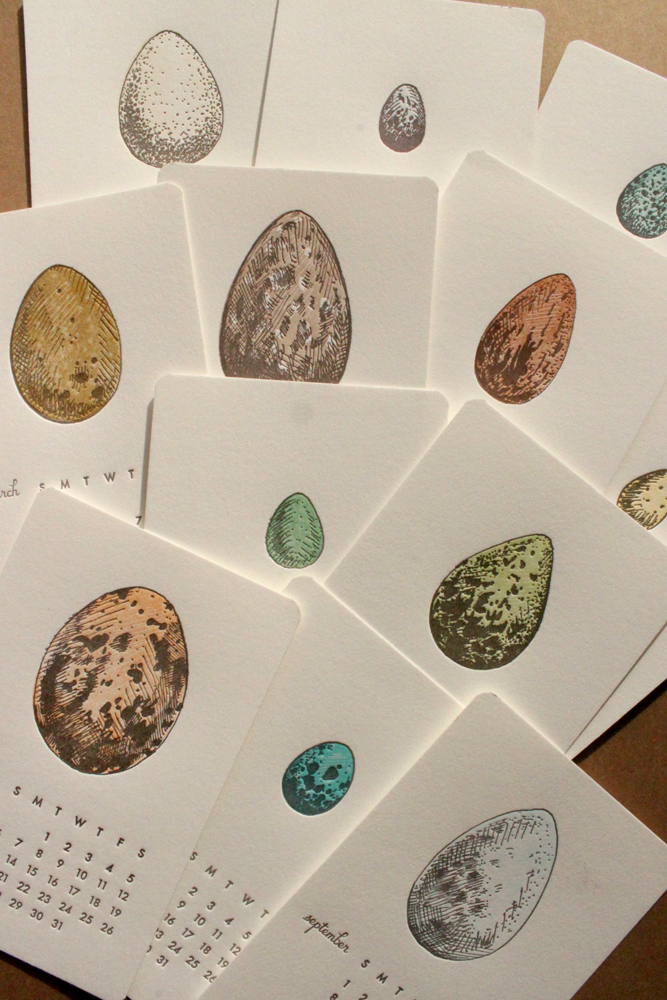 Each month features a different wild bird egg. Each little flat drawing from my sketchbook comes to life with letterpress – the color, texture, and impression gained in the printing process adds so much. Each is a two color print – one plate for the color and texture, and one for the details and shape. I had fun playing with the inking and packing in the first ink run. For a couple of the eggs I punched little holes in the packing or crumpled sheets of paper under the tympan to add a variegated appearance to the egg's surface. I then printed a dark brown run on top of each color with each egg's spots and streaks, and cross hatching or stippling to describe the egg's shape. I love how well the hand-drawn quality is maintained – photopolymer plates are pretty amazing!
Though I loved my 2012 Vintage Handkerchief calendar, I think I love this one even more. Last year, the plates were so large and pricey that I had to sell them at a higher price point than I wanted to, and it was difficult to have any real control over the big plates on my press. Since this is a small calendar (4×6) I printed all 12 months individually as opposed to last year's six prints.
So much of my work is collaborative – working with brides or other clients to achieve a finished product. I love that process and it's so much fun working with others to create something. But every once in a while it's so gratifying to make something that feels all my own. From the drawing, to the layouts, to the color choices and prints – these are my vision, printed for you! They're available in my etsy shop for $28.
Alex is working on a video of the process of making these from beginning to end. Will be posting that soon!